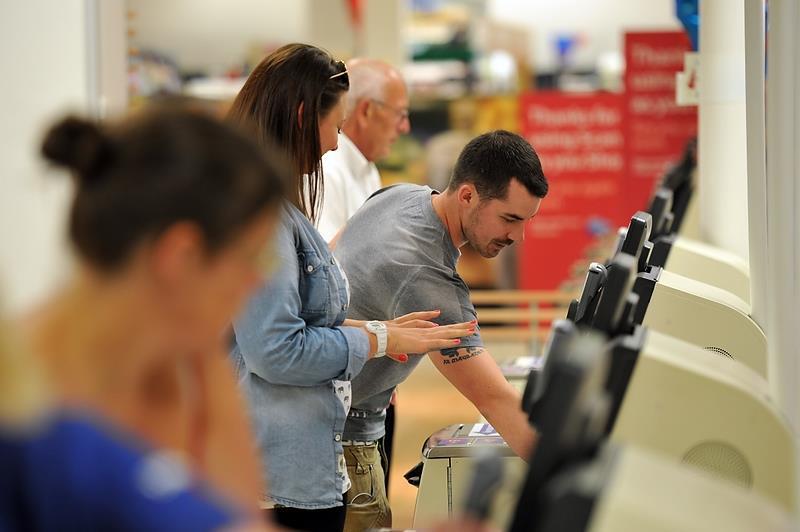 City Snapshot: UK retail sales slow in August despite rising prices | New
top story
UK retail sales growth slowed in August, with a slight increase in sales leading to a much larger decline in volumes due to soaring inflation.
According to the BRC-KPMG Retail Sales Monitor, in the four weeks to August 27, total sales increased by 1% compared to a 3.0% increase in August 2021.
This is above the 3-month average of 0.7%, but below the 12-month average growth of 2.5%.
Retail sales increased by 0.5% on a like-for-like basis compared to August 2021, when they had increased by 1.5%.
In the three months to August, food sales increased 3.8% on a total basis and 3.3% on a like-for-like basis, which is higher than the total 12-month average growth of 0.8%.
For the month of August, the supply was growing year on year.
However, in the three months to August, non-food retail sales fell 2.0% overall and 2.6% like-for-like.
In-store non-food sales rose 1.4% overall, but online non-food sales fell 6.1% in August.
BRC CEO Helen Dickinson commented: "Retail sales growth slowed in August compared to the previous month as consumers restrained spending amid rising costs of living. Although retail price inflation is lower than general inflation at more than 10%, this still represents a significant drop in sales volumes.
"For the first time in recent months, apparel sales slowed as summer events ended and parents held back on back-to-school spending. White goods and household items remained the hardest hit, but products such as air fryers and knitwear have been boosted as thrifty consumers brace for skyrocketing energy bills.
"With some inflation forecasts hitting 20% ​​in the new year, households and retailers are bracing for a particularly tough time ahead. As retailers face their own rising costs in all directions, they continue to do all they can to protect customers from price increases.
"The new Prime Minister could help ease some of the cost burden and ease the upward pressure on prices by freezing the business rate multiplier for all retail businesses next year. Without it, inflation could hit an extra £800million on retailers' bills, inevitably driving even higher prices for households at a time when people's incomes are under unprecedented pressure.
Don Williams, KPMG Retail Partner, added: "Warm weather combined with higher prices saw August sales growth up 1% year-on-year, even though the volumes will have been put to the test.
"The heatwave saw strong growth in health items such as suntan lotions, while sales of summer barbecue food and beverages were up 5% year-over-year and accessories for the home also saw growth for the first time in months. Online sales fell more than 6% in August, but the acceleration in online penetration remains.
"Worryingly, August data revealed a significant drop in apparel sales – the best performing category this year, which could signal the start of a withdrawal of shoppers from non-essential spending.
IGD CEO Susan Barratt, commenting on the food and beverage performance, said: "Food and beverage sales volumes spent the entire month of August in negative territory as value sales were supported by the continued inflationary pressures that are regularly fueled by the supply chain.
"August was dominated by rising inflation, with talk about it even higher, as well as increases in energy prices. People are reacting – they are taking action now to try to move on Our data shows that shoppers are investing more time in how they can save money by planning more and looking for value with private label options and looking for discounts.
morning update
Packaging giant DS Smith reported strong profit and yield growth, supported by a continued price recovery and cost management over the summer.
Updating the market on performance since May 1, the company said overall transactions were in line with expectations, driven by price momentum and good cost control.
Q1 corrugated box volumes were down slightly on a like-for-like basis, as expected and compared to comparative quarter growth of 13%, but they continue to expect growth of at least 2% for the whole year.
He warned that virtually all input costs, including energy, have increased significantly.
These increases in energy costs were largely mitigated by energy efficiency initiatives and a long-term hedging program.
He said that currently more than 90% of natural gas costs are covered for 2023 and 80% for its 2024 fiscal year, with costs recovered through an increase in packaging prices.
The group's outlook for the current financial year remains unchanged with the expectation of significant improvement in performance.
CEO Miles Roberts commented: "We have started the year very well, despite the current macro-economic conditions. We are focused on ensuring the highest levels of security of supply and customer service and are very pleased with the ongoing support we receive from our customers and suppliers. While the industrial sector is showing some weakness, our FMCG business remains resilient.
"The increase in profitability and cash generation is due to improving efficiency and mitigating cost increases, as well as the successful continuation of packaging price increases. The overall return on capital remains within the limits of our medium-term objective. »
"As we enter the second quarter, we are keenly aware of the challenging economic environment in which we operate and the impact it is having on our customers and colleagues. However, our operating plans and progress to date continue to give us confidence in our outlook for FY23."
Meanwhile, the group has announced that Adrian Marsh will step down from the board and his role as the group's chief financial officer once a successor is in place.
A process will be undertaken by the Company to identify and appoint his successor and a further announcement regarding Marsh's retirement date will be made in due course.
Elsewhere this morning, consumer card spending rose 4.7% year-on-year in August – the smallest rise since March 2021 – as rising costs of living hampered the retail sector.
Barclaycard data revealed that while the summer holidays boosted domestic travel and hospitality spending, overall card spending was down 1.9% month-on-month as consumers became more selective with discretionary purchases to ensure they can pay rising household bills.
Spending on essentials rose 7.2% year-on-year – its strongest growth since December 2021.
This saw supermarket shopping see its largest year-on-year increase (4.7%) since February 2021, while specialty food and drink stores returned to growth (0. 6%) for the first time in eight months.
These rises are likely due to rising inflation, Barclaycard said, as well as the easing of all Covid restrictions in August last year, which led to more Britons dining out instead than at home.
However, spending in supermarkets and specialty food and drink stores declined compared to July 2022 (-3.6% and -1.6% respectively), with nearly half of consumers looking to get more value or reduce the cost of their weekly shopping.
Spending on fuel rose 23.9%, its weakest growth in 12 months, due to a slight decline in gasoline and diesel prices and drivers opting to reduce vehicle use for to save money.
Average spending on utility bills rose 45.2%, higher than the growth seen in July (43.9%) and June (39.6%) this year.
Meanwhile, spending on non-essential items rose 3.6% year-on-year – the weakest growth since February 2021, as a number of categories saw declines.
Clothing retailers recorded a notable decline (-1.9% YoY and -10.7% YoM), as did department stores (-4.3% YoY and -7.7% YoY). a month).
On the other hand, restaurants and bars, pubs & clubs saw a respite in August, growing by 6.6% and 8.4% respectively, the sector boosted by the sunny weather.
José Carvalho, head of consumer products at Barclaycard, said: "The cost of living is clearly leading Britons to cut back on some non-essential purchases to ensure they can afford the rising costs of their weekly groceries and utility bills. public services. . Yet despite these inflationary pressures, consumers have always been keen to take advantage of the summer weather by eating and drinking at restaurants and vacationing with friends and family.
"However, a rise in energy prices on the horizon means that the majority are understandably very concerned about whether their finances can stretch far enough to pay rising household bills. Many Britons plan to continue cutting discretionary spending through the fall and winter, while taking a resourceful approach to saving money to weather a tough time ahead.
On the markets this morning, the FTSE 100 rose another 0.3% to 7,305.6pts.
Early birds include Greggs, up 6.6% to 1,963.1p, Marks & Spencer, up 5.9% to 130.9p and Deliveroo, up 5.9% to 85.2p.
Fallers include Glanbia, down 4% to €11.97, Bakkavor, down 2.1% to 94p and Science in Sport, down 0.7% to 28p.
Yesterday in the city
The FTSE 100 started the week on the right foot, rising 1.9% on Monday after last week's losses to close at 7,281.1 points.
The risers included Virgin Wines, up 8% to 51.5p, Just Eat Takeaway.com, up 4.7% to 1,362.4p, FeverTree, up 4.4% to 837p, C&C Group, up 3.9% to 163.3p, THG up 3.7% to 53p, SSP Group up 3.4% to 204p and DS Smith up 3% to 263p.
Fallers on the day include Bakkavor, down 14.3% to 96p, Naked Wines, down 5.7% to 130p, Finsbury Food Group, down 2.8% to 73p, Nichols, down 2.5% to 1,120p, Ocado, down 2.2% to 719.6p and Marks & Spencer, down 2% to 123.7p.