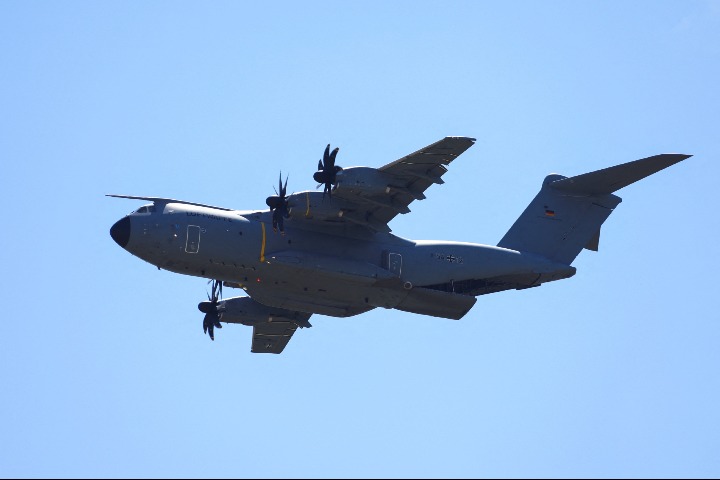 Germany and Japan boost defense spending
Scholz says country's military must become cornerstone of Europe's conventional defense
Changing defense policies in Germany and Japan, which have strictly limited military spending since their defeat in World War II, are cause for concern, Chinese experts have warned.
At a conference of the German Armed Forces on September 16, German Chancellor Olaf Scholz said the German army must become the best equipped in Europe, German public international broadcaster Deutsche Welle reported.
"We say it clearly and convincingly: Germany is ready to take primary responsibility for the security of our continent," he said.
The title of the meeting was "The Bundeswehr (federal defence) in a new era – Critical balance in wartime Europe".
As the continent's most populous country with the greatest economic power and because of its central location on the continent, Germany and its military must become the cornerstone of conventional defense in Europe, Scholz added.
"The main task of the Bundeswehr is to defend freedom in Europe," he said, adding that all of its other tasks, such as humanitarian aid and help with vaccinations during pandemics, should play a role. secondary.
The chancellor said the German government was also ready to review restrictions on military export rules that affect joint defense projects, according to Deutsche Welle.
Berlin has made a preliminary decision to buy the Arrow-3 defense system, made by Israel Aerospace Industries, which intercepts ballistic missiles outside the Earth's atmosphere, the Jewish News Syndicate reported.
Israeli Prime Minister Yair Lapid and Scholz met in Berlin on September 12, sending the message that a major defense deal is in the works, according to Bloomberg.
Lapid told reporters that Israel "will play a role in the development of the new German defense force, especially in the field of air defence", and Scholz said his country was "willing to collaborate with Israel" in matters defense.
Japan is also strengthening its military might.
To finance a substantial increase in defense spending, the Japanese government is considering issuing special bonds with the aim of raising taxes in the future to pay off the debt, the Kyodo news agency reported.
Raising corporate or tobacco taxes would be one of the options to increase revenue.
In May, Japanese Prime Minister Fumio Kishida told visiting US President Joe Biden that his government would dramatically increase defense spending. Japan's ruling Liberal Democratic Party has called for increasing the defense budget to no less than 2% of GDP within five years.
In 1976, the Japanese Cabinet voted to limit spending to less than 1% of gross domestic product. The cap was removed from the 1987 fiscal year budget, but the figure generally remained around the 1% threshold, according to the weekly Nikkei Asia.
On Aug. 31, Japan's Defense Ministry requested 5.59 trillion yen ($40.4 billion) for fiscal year 2023, its largest budget request ever.
The request, a 1.1% increase over the original budget this fiscal year, is the 11th consecutive budget increase under a government led by the Liberal Democratic Party.
The request will be forwarded to the Ministry of Finance for review and a decision is expected by the end of December. It includes funding for more than 100 items, such as the development of remote missiles that can be fired from Japan Self-Defense Forces vehicles, ships and aircraft, and the joint development of a next-generation fighter. with the UK, according to Kyodo News.
Kishida's administration has undertaken the review of the country's three main security policy documents – the National Security Strategy, the National Defense Program Guidelines and the Medium Term Defense Program – by the end of 2022 .
In a China Global Television Network broadcast, Jin Yinan, a Chinese defense adviser, said Germany and Japan have a lot in common.
They are economically developed, with Germany being the economic engine of Europe and Japan a major economic power in Northeast Asia.
Both are technologically advanced.
And they also both welcome American troops into their territories, suggesting that the United States has a say in its actions.
"If the Russian-Ukrainian conflict had not taken place, it would be unlikely that the United States would allow the two countries to strengthen their military defenses," Jin said.
Alarmingly, Germany and Japan have not announced that they will never develop nuclear weapons as part of their military buildup, the military adviser said.
Li Chao, a researcher at the Institute of European Studies of China Institutes of Contemporary International Relations, said a country's military strength cannot be improved overnight and it is premature to predict how and when. a change in Germany's security policy.
Li added that there is no need to worry about Germany becoming a military hegemon again.
Three German fighter jets will arrive at Hyakuri Air Base in Ibaraki Prefecture near Tokyo on September 28 for the first joint training with Japan's Air Self-Defense Force, NHK reported.