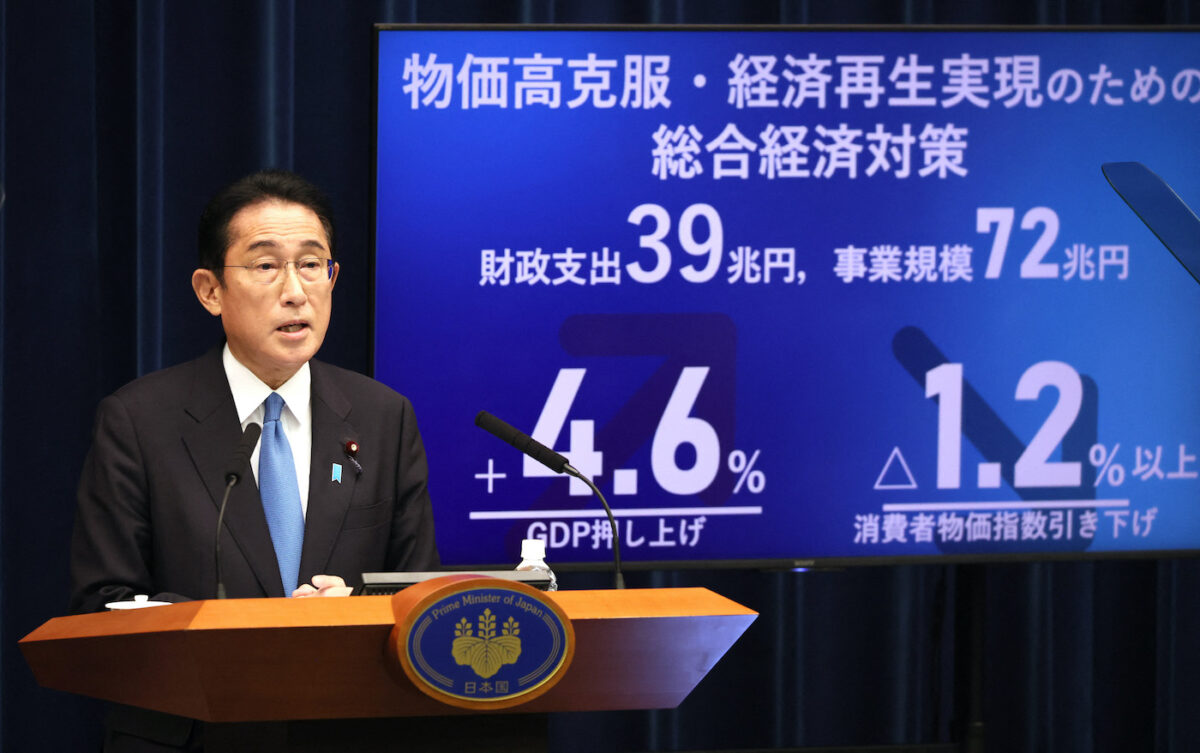 Japan announces $485 billion economic program to counter rising inflation
Japan's prime minister announced on Friday that his government would spend about 71.6 trillion yen ($485 billion) on economic stimulus measures aimed at helping households and businesses cope with inflationary pressures amid weak economic conditions. change.
Prime Minister Fumio Kishida said the economic package is expected to boost Japan's gross domestic product by 4.6% and lower consumer prices by 1.2% over the next year.
It includes a supplementary budget of 29.1 trillion yen ($200 billion) to expand support for households and reduce utility bills. Kishida said his government would also provide 100,000 yen ($680) for each pregnant woman.
"We are targeting energy prices, a major driver of recent inflation, and visibly curbing price increases," he said at a press conference, Kyodo News reported.
On the total stimulus package, Kishida said his government would set aside 6 trillion yen ($40.7 billion) for energy-related measures and provide support worth 45,000 yen ($305 ) to each household.
The monthly utility bill for an average household will be reduced by 5,000 yen ($33.90) from January next year. Household electricity bills will be reduced to 7 yen ($0.05) per kilowatt hour, while businesses will receive a subsidy of 3.5 yen per kilowatt hour.
The government will also provide a subsidy of 30 yen ($0.20) per cubic meter of consumption for town gas charges and extend current subsidies for oil wholesalers beyond December.
Keep interest rates low
The economic stimulus was heralded following the Bank of Japan's (BOJ) decision on Friday to keep interest rates below zero despite the depreciation of the yen, which hit its lowest level this month in 32 years old.
Japan is the only major economy to keep interest rates low amid rising inflation. Kishida said the government will closely monitor developments in the foreign exchange market in coordination with the BOJ.
"At the same time, we need to strengthen our economy," he said. "We have measures to support export-oriented small and medium-sized businesses, encourage businesses to shift higher costs, and boost inbound tourism."
Since 2016, the central bank of Japan has kept its key rate at -0.1%. On October 28, the BOJ Policy Board decided to keep the key short-term interest rate unchanged at 0.1%.
The BOJ said it remained committed to keeping yields on Japanese 10-year government bonds around zero percent by buying a "necessary amount" of these bonds without setting an upper limit.
"The bank will offer to buy 10-year government bonds at 0.25% each business day through fixed-rate purchase operations, unless it is very likely that no offer will be made. be submitted," the bank said.
Japan's decision to keep interest rates low is in stark contrast to other major central banks around the world desperately raising rates. Just a day earlier, the European Central Bank announced another big rate hike of 75 basis points.
In the United States, the Federal Reserve raised its benchmark interest rate from near zero at the start of the year to a range of 3.0-3.25%, its highest level since 2008.
Naveen Athrappully contributed to this report.